Start main content
Challenge Day - Green Campus in HKBU
Challenge Day - Green Campus in HKBU
The "Challenge Day – Green Campus" of the Jockey Club AI Community Innovation Programme has been successfully held at TriAngle on 7-8 Jan. This event was organised by CISL TriAngle and joined hands with MakerBay Foundation. 11 HKBU students served as student helpers to provide guidance to the primary and secondary school participants. They walked around the HKBU campus to discover environmental problems and devised AI software solutions.
30 secondary and primary school participants built empathy through having a campus tour and interviewing students and staff under the guidance of mentors and student helpers. They then designed the AI solutions using tools such as Teachable Machine and Pictoblox. Some even addressed innovative and practical energy saving and recycling issues. The competition is just the beginning as we will support the champion, 1st runner-up and 2nd runner-up team to turn their ideas into actual products which will be displayed in future events.
Winning teams will be awarded HKD3,000 from CISL TriAngle and HKD3,000 from Makerbay Foundation for further developing their prototypes. They are also expected to showcase their ideas in April.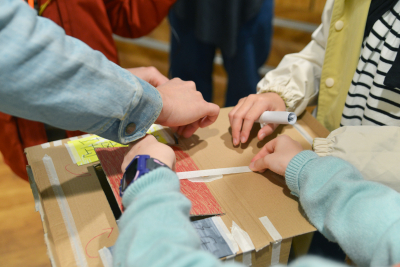 Day 1
On Day 1, the primary and secondary participants formed groups. HKBU student helpers and mentors led teams to discover the environmental problems in HKBU and started developing their prototypes.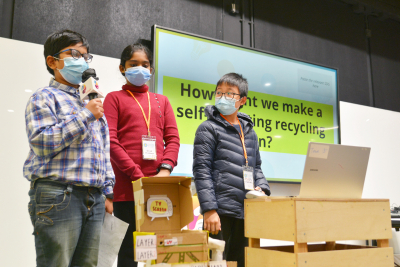 Day 2
On Day 2, HKBU student helpers and mentors guided the participants to produce the models and worked on presentations. In the presentation, participants demonstrated their prototypes with AI software to solve the problems in HKBU.